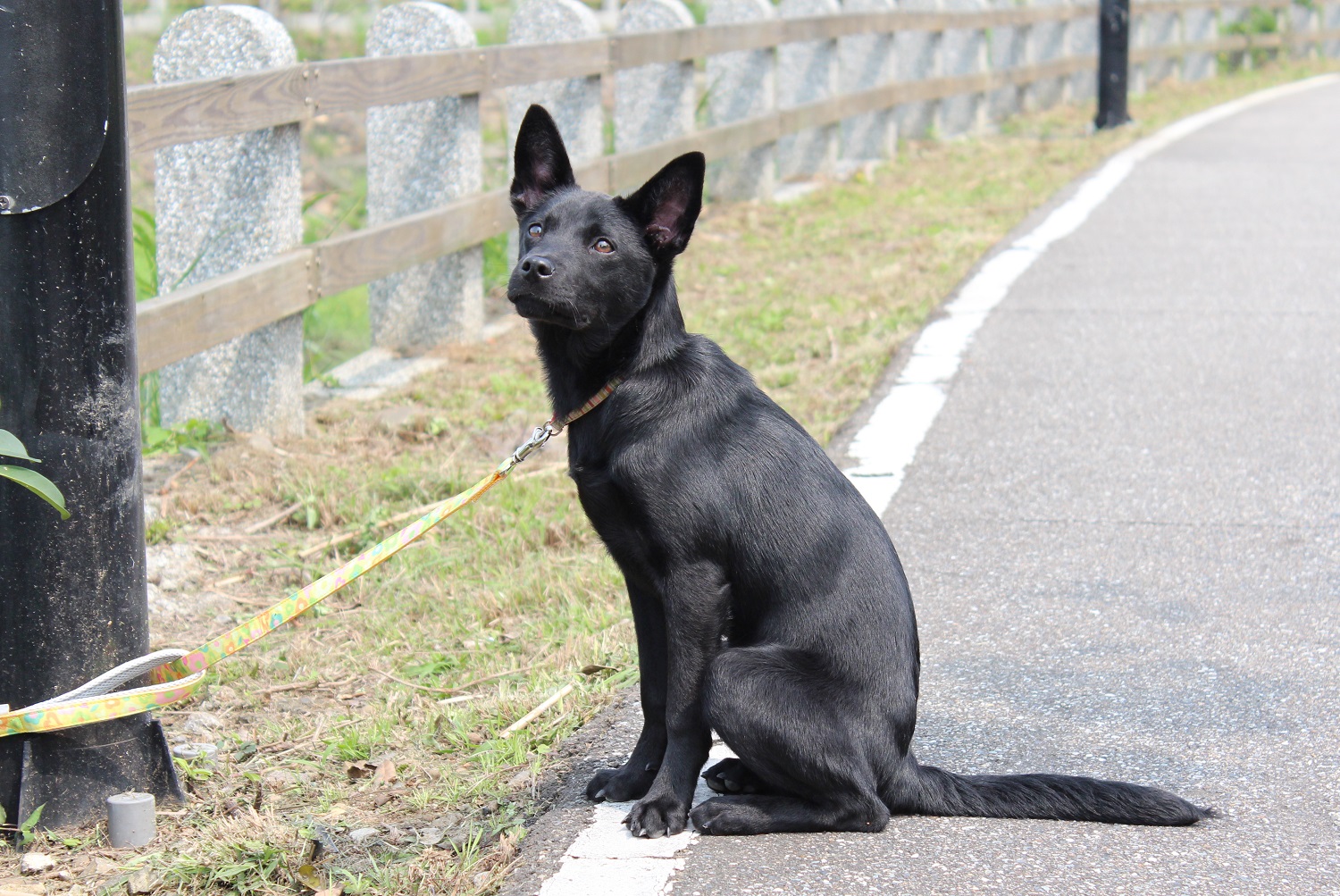 Shepherd Mix, Spayed, 5.5 Months, 22 Lbs.
Lola, spayed female, 5.5 months old, 22 Lbs weight.
Lola is easy going and close to people. She is a very obedient, sweet-tempered, easy-going and endearing dog. She has good behaviors, good with people and kids, good with dogs and cats. She is always smiling and loves to cuddle!
Four puppies, 5 weeks old, were found abandoned inside a carton by the side walk. A volunteer rescued them before the arrival of the animal catcher. Due to limited foster care available, these puppies had to settle in a vet hospital, waiting for the next vacancy.

The four puppies were named Xiao-Pin, Anna, Lola and Cissy respectively. They had been living in the cage of the hospital for 2 months and were growing up fast.
Xiao-Pin was adopted first and the rest, Anna, Cissy and Lola, also found a foster home. The rest of the three puppies are still awaiting for their uncertain fate.
We hope a kind individual can adopt Lola, a sweet and cute puppy, and cherish her for the rest of her life.
 
Update:
Anna was adopted in April.
Alpha_______ or submissive ___V____
Energy level very high_____high__V__medium_____low____
Does the dog get along with other dogs at home?___YES___in a public place?___YES___
Is the dog Skittish (afraid sudden noise and movement, will try to get out of collar when scared) __NO___
Shy dog is just shy, not afraid of noise or sudden movement, will warm up faster than skittish dog__YES___
Is the dog people friendly__YES_, children friendly_YES__,
Does the dog bark continuously when left along? __NO____chew a lot___NO___
does the dog gets along with cats ?___YES_____
housetrained or not?____YES____outside___YES___or newspaper___YES___
good walk on leash or not?___YES____any basic training? ____SIT _____
Is the dog afraid of man?____NO_____
How is the dog with new environment?__ ADAPT SOON_____
Does the dog have food aggression with other dogs?­­____NO___
Can people touch the food in the bowl while the dog is eating?_____YOU CAN TOUCH HER AS YOU WANT___
Has the dog ever bitten anyone? _____NO_____
Are there any red flags we should know?__________
Videos
With foster family and their dogs in foster home
Walking on leash in public place
With strangers in public place
With strangers in a public place 2
With other dogs in public place
With children in public place